A USA-based grant program to inspire our youngest citizens to value the environment and protect their local ecosystems.
Commitment
CHILDREN'S EDUCATION
To advance its botanical mission, the Klorane Botanical Foundation has partnered with national non-profit KidsGardening, a leader in the school gardening movement for over 38 years. Since 2018, over 10,000 children in the USA have been reached through the Budding Botanist grant packages that have been awarded to school educators with low-income schools to provide garden-based learning opportunities for both remote and hybrid learning options.
Fifteen grant packages valued at $1200 were awarded to high needs schools across the USA .
Budding Botanist
2021 Grant Winners
Anderson Mill Elementary School (Austin, TX)
Bessie Weller Elementary School (Staunton, VA)
Celentano Biotech, Health and Medical Magnet School (New Haven, CT)
Charter School of the Dunes (Gary, IN)
Chimacum Elementary (Chimacum, WA)
Crain's Creek Middle School (Carthage, NC)
Crystal Lake Middle School (Lakeland, FL)
Freeman Elementary School (Flint, MI)
Glenwood Springs Elementary School (Glenwood Springs, CO)
Indiana School for the Deaf (Indianapolis, IN)
John Dewey High School (Brooklyn, NY)
Nathaniel Hawthorne School (Milwaukee, WI)
Robert Louis Stevenson Elementary School (San Francisco, CA)
K. William Harvey School of the Ronan School District (Ronan, MT)
The Volcano School of Arts & Sciences (Volcano, HI)
Discover the 2020 Grant Winners
Columbia, SC
WINDSOR ELEMENTARY
In the spring, Windsor Elementary used their Grant to double the size of their butterfly garden. A "little library" was created for the garden space. Since the transition to remote learning, various classrooms have continued to focus on garden-based projects. Produce grown and harvested over the course of the summer was delivered to a select number of food-insecure families connected to the school on a weekly basis.
Pine Ridge, SD
RED CLOUD INDIAN SCHOOL
The Red Cloud Indian School is using their Grant to provide opportunities for Oglala Lakota youth in grades K-12 to connect their tribe's traditional knowledge and culture. Through at home gardening kits and on-site farmer's markets, students can receive nutritious foods in the cafeteria, classrooms and their own homes while also learning about traditional indigenous agriculture.
Brooklyn, NY
MS915
MS 915, in partnership with Brooklyn Bridge Park horticulturalists, is creating a "natural oasis" in the heart of their urban community. The space will feature native trees and shrubs, a designated space for food crops, and an outdoor classroom. The students are excited to start working on this project once in person school commences.
Knoxville, TN
AUSTIN-EAST MAGNET HIGH SCHOOL
With help from the Grant, the school can provide students with healthier food options, dynamic learning opportunities and exposure to potential futures in food-related fields. While garden programming has been postponed due to remote-learning in the school district, the school is exploring supplemental virtual garden-based education programs and are looking forward to in-person learning to resume.
Lakewood, NJ
NEW ROAD SCHOOL OF OCEAN COUNTY
New Road Schools serves students with developmental, learning, social, behavioral and language disabilities. Noted benefits of garden-based learning include improved motor skills, enhanced creativity, increased social skills and improved self-confidence. The school hopes to double the size of their garden, install a polycarbonate greenhouse, and integrate an aquaponic system into their programming to encourage a culture of conservation and natural resource stewardship within their community.
Omaha, NE
WALNUT HILL ELEMENTARY SCHOOL
The school plans on building garden beds in the fall so that the garden can be used in person or as a backdrop to virtually delivered garden-based programming in late fall and next spring. The local organization that has been working with Walnut Hill Elementary School to implement the Grant has been conducting successful and popular virtual garden programming all summer long and will use these programs to help support teachers still engaged in remote learning.
Pa'auilo, HI
PA'AUILO ELEMENTARY AND MIDDLE SCHOOL
Pa'auilo Elementary and Middle School looks to revitalize an old greenhouse, transforming it into an outdoor classroom space that will accommodate all grade levels participating in garden-based programming. With help from the Grant, by producing local and culturally relevant foods and canoe crops, food that the ancient Hawaiians brought with them on their voyages, students experience on a weekly and daily basis the meaningful life-skills of seeding, planting, caring for, harvesting, and preparing food they grow in their very own schoolyard.
Philadelphia, PA
NORTHEAST HIGH SCHOOL
With help from the Grant, the new school garden will promote a lifelong culture of environmental sustainability by teaching students how to cultivate and maintain edible gardens. Students were in the process of working on the final design for their aquaponics system last spring when schools switched to remote-learning. The school is looking forward to restarting work on the aquaponics project when they return to school.
Plymouth, MN
FAIR PILGRIM LANE ELEMENTARY SCHOOL
With the help of the Grant, students were able to plant a pollinator garden, fill raised beds with soil and plant vegetables that were donated to emergency worker families and teachers. Both parents and teachers volunteered over the summer to complete garden projects and maintain growing spaces. The Grant allows the school to support and encourage hands-on, proiect-based outdoor learning experiences to ensure students learn important science content by doing science, rather than by just reading about science.
Siren, WI
SIREN SCHOOL DISTRICT
The Grant was used for a garden expansion that was completed over the summer with the help of teachers and volunteers. Throughout the summer, produce grown at the school garden donated to a local food pantry. Now that school is back in session, the food service department is using garden-grown fruits and vegetables in lunches and snacks. Students are excited to grow very rare, heirloom seeds. The district works hard to incorporate Native American learning wherever it can, so students can connect to their local and familial history. A part of the school garden is used to grow Ojibwa heirloom seeds promoting the three sisters companion gardening concepts.
Springdale, AR
CENTRAL JUNIOR HIGH
Students in Central Junior High's agriculture program will be working on a series of advanced programs to implement a biogas digester and ultralow irrigation system in their garden space. Garden-based activities associated with the class continued uninterrupted but remotely throughout the spring and will continue in the fall. Students were able to maintain the garden throughout the summer.
Tucson, AZ
IMAGO DEI MIDDLE SCHOOL
With their new Grant funds, the school has installed an aquaponic system that will better educate students on the different ways to grow food in an urban, desert environment. The school was able to engage students in assembling part of the system before the school closed due to COVID- 19. While learning from home, students are working on miniature aquaponics systems and butterfly rearing kits. The school also runs an on-site food pantry for the local community where some of the food comes directly from the school's garden.
Discover the 2019 Grant Winners
Los Banos, CA
R.M. MIANO ELEMENTARY SCHOOL
To support R.M Miano's steadfast dedication for garden-based learning, the school was rewarded with the Budding Botanist grant to fund a new carnivorous garden named 'The Gateway Program – A Beautiful Place to Learn'. According to 6th grade teacher & program coordinator Sergio de Alba, "The gardens have become engaging opportunities that change their outlook in life as well as what they feel their future holds. Our students learn to become stewards of the land that they work and the forthcoming community leaders, scientist, and farmers that will ensure that our environment and land is respected."
Albuquerque, NM
INEZ ELEMENTARY SCHOOL
According to parent volunteer Rebecca Brinkerhoff, the Grant will help "foster a love and appreciation for our high desert environment, and design a landscape plan to demonstrate xeriscape principles, including water retention practices and erosion management. We will use native plants along with traditional regional building techniques such as adobe and rammed earth berms," continued Brinkerhoff. "Teaching sustainability and an appreciation for the bounty possible when respect for our environment and traditional and pueblo community knowledge are used is what this program is all about."
Bridgeport, CT
WALTERSVILLE SCHOOL
"The Grant is being used to support the creation of a Monarch Butterfly Corridor and expand the school's current garden program. The students were inspired by a hands-on learning activity exploring the impact of humans on their local ecosystem and wanted to help pollinators by creating a garden with native plants. Waltersville's Science Teacher John Cunningham says, "We will be teaching the students how to be citizen scientists with this new garden project and showing how our actions can help pollinators in our dense, urban environment." Cunningham also adds that the students will be starting milkweed plants at home to further engage them and create additional habitat for monarchs and pollinators.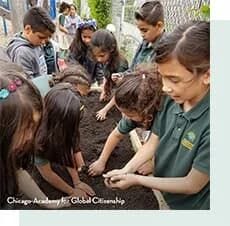 Chicago,IL
ACADEMY FOR GLOBAL CITIZENSHIP
The Academy for Global Citizenship is a Chicago Public Charter School located on the city's industrial and undeveloped Southwest side. Sustainability Coordinator Marney Coleman shares "With food and farming as a central teaching tool, students learn the power of their daily choices to improve their own wellbeing as well as the health of their communities and the earth. Students graduate with a strong understanding of natural systems and a responsibility towards their communities and the planet." The Academy also incorporates garden harvest into their cafeteria and offers a student-run mobile farmers' market to bring locally grown, organic produce to their whole community.
Knoxville, TN
SPRING HILL ELEMENTARY SCHOOL
The Grant will help create a certified wildlife habitat featuring entirely native species: sixteen trees, shrubs, and flowering plants. With the help of a local wildlife habitat program, the garden will not only educate the children, but will promote plant and animal biodiversity, as well as serve as a rich platform for community engagement. The garden will also aid as a haven for up to 169 species of birds, moths, butterflies, and caterpillars. Spring Hill Elementary School STEM (Science, Technology, Engineering, and Math) Lab Teacher Amanda Callahan-Mims says, "The abundance of fruiting and flowering trees, shrubs, and herbaceous plants provide nectar, pollen, fruit, and seeds for animals and insects over the seasons as our indigenous flora allows."
Queens, NY
THE RENAISSANCE CHARTER SCHOOL
The school is utilizing the Grant to help expand their year-round garden to help increase the amount of fruits and vegetables they are able to produce. Their garden is used as part of an agriculture-based curriculum for high school students, a student-driven permaculture leadership program, and for food education classes. The school's Development Associate Peggy Heeney says, "If we teach children all the benefit of buying and eating locally sourced food because it's healthier, it is better for the environment as there is less transportation involved."
Redford, MI
THURSTON HIGH SCHOOL
With the Grant the school will create a new rain garden which will combat water runoff from roads, buildings and parking lots, increase biodiversity and watershed health, while also combating invasive species. Their new garden will be a hands-on learning lab for high school students and an opportunity for school district elementary and middle schools' classes can visit to learn and explore. According to Thurston High School student Sara Borsodi, "There will be so much exploring and learning in our new rain garden and with it the opportunity to apply classroom skills to real life." "We can take this critical thinking and apply it to our rain garden by deciding what plant species we need to plant in order to attract certain insects, birds, and small mammals that increase biodiversity, sustainability and improve our watershed."
Discover the 2018 grant winners
Brooklyn, NY
P53K – DISTRICT 75
P53K is a special needs New York City public school program serving K-12th grade students in Brooklyn. Principal Heather Leykam shares, "Many of our students are kinesthetic learners and as such P53K envisions cultivating a sensory garden that accommodates their different learning styles." She believes their new garden "will afford our students the best opportunity for successful teaching and learning about their environment and the impact it has on all aspects of their day to day living. " They will use the funds from the Budding Botanist grant to create a fully accessible garden space for students of all abilities to learn from and enjoy. They plan to integrate garden activities into an "adaptive science curriculum that results in sustainable gardening becoming an integral part of our everyday learning environment and school culture."
Kansas City, MO
CITIZENS OF THE WORLD CHARTER SCHOOL
"Our students have begun their journeys as being conscious consumers," says Sara Murphy, Citizens of the World Charter School Parent and Special Education Process Coordinator. "We emphasize the importance of respecting the body and its connection to the environment, this means guiding students to consider not only what they eat and put into their bodies but also what they do, how they treat others and the world around them."
Washington D.C.
EAGLE ACADEMY PUBLIC CHARTER SCHOOL
The launch of the new school garden program is a key component of an overall Environmental Literacy Plan. STEAM Integration Specialist Karen Brooks-Bauer of Eagle Academy Public Charter School explains, "We have three big goals: living and learning sustainability, appreciating our natural environment near and far, and understanding where our food comes from."
Oakland, CA
GARFIELD ELEMENTARY SCHOOL
From school day lessons taught by Food Corps volunteers to a special student-led business that sells healthy snacks and natural beauty products, students learn about science, nutrition and socio-environmental justice through the garden program. Teacher Abdul-Haqq Khalifah's goals are to make sure students are "active participants in their food choices" and also aware of "their impact on the world."
Los Angeles, CA
ROSEMEAD HIGH SCHOOL
Teacher Joseph Vasquez shares that "integrating classroom learning with 'real world' gardening projects motivates high-risk students to stay in school and persist to graduation. Garden projects rally more students to care about the environment and take action." The goal of the project is to challenge existing thoughts about plants that are traditionally thought of as "weeds" and urge students to investigate the horticultural and ecological purpose of all the plants that appear in their garden.
SCHOOL GARDENS
Provide opportunities for hands-on learning, inquiry, observation and experimentation across the curriculum.
Motivate kids to eat and love fruits and vegetables - an effective way to promote life-long healthy eating habits.
Promote physical activity and quality outdoor experiences by connecting students to the natural world.
Teach kids about where their food comes from and to think critically about local and regional food systems.
KidsGardening
For 37 years, KidsGardening has led the school gardening movement. They create opportunities for kids to learn through gardening, engaging their natural curiosity and wonder by providing inspiration, community know-how and resources. As a national nonprofit, they are improving nutritional attitudes, educational outcomes, social emotional learning, and environmental stewardship in youth across the country. Beginning with 50 youth garden grants in 1982, KidsGardening has benefited an estimated 1.5 million children and contributed close to $4.4 million dollars in funding to youth gardening initiatives across the U.S.