exclusive expertise
plant-based ingredients
Klorane established itself as a pioneer that has made its mark on cosmetics through exclusive expertise test: knowing how to choose a long-established plant and borrow from traditional routines to create modern products. The company culture builds on nature to develop innovative plant-based active ingredients and safe and effective products by adhering to a clearly-defined set of ethics and commitments, known as the Pierre Fabre Botanical Expertise.
innovation
Plant-based innovation through cutting-edge technology and the skill of our in-house experts (botanists, agronomists, biologists and pharmacists).
sustainability
Protecting biodiversity and ensuring the continued existence of resources and supply with a policy of sustainable development adapted to 212 plants and 410 plant extracts.
safety
A guarantee of efficacy and safety, an approach derived from the company's pharmaceutical culture.
relationships
Respect for all of the partners, farmers, extractors, growers and suppliers.
AQUATIC MINT
Detoxifies, purifies and protects
Mentha Aquatica L. from France
Growing abundantly in moist soil, along streams and riverbanks, Aquatic Mint is organically farmed and harvested in the southwest of France. The pure extract of the plant is obtained using a patented solvent-free extraction method, taken from green chemistry, to obtain a 100% natural extract that is as effective as the actual plant.
CENTAURY
Neutralizes and restores
Centaurea Cyanus L. from France
Organically farmed on Klorane's own land in France and produced with a short supply chain, Centaury is known for its naturally rich botanical pigment of indigo blue.
BANISH BRASS KIT

Renew your hue, naturally. This plant-based purple routine with organic Centaury neutralizes unwanted brassy, yellow and copper tones while maintaining brightness and vibrancy in blonde, platinum, silver or gray hair. Hair is nourished, bouncy and soft with shine enhanced.

Discount automatically applied at checkout. Kits are not eligible for additional promotional discounts.

QuickView

Anti-Yellowing Shampoo with Centaury

This plant-based purple shampoo cleanses and neutralizes unwanted yellow, brassy and copper tones in blonde, platinum, silver or gray hair. Hair is nourished, bouncy and soft while color intensity is restored and shine is enhanced.

QuickView

Anti-Yellowing Conditioner with Centaury

This plant-based purple conditioner nourishes hair while neutralizing unwanted brassy, yellow and copper tones in cool and platinum blonde, silver or gray hair. Hair is hydrated and bouncy while color intensity is restored and shine enhanced.

QuickView
CHAMOMILE
Lightens and brightens
Matricaria Recutita L. from Egypt
Grown under the Mediterranean sun of Egypt, the Chamomile flowers are handpicked and naturally dried in the sun. The petals contain a high content of Apigenin which attaches to the hair scales without penetrating the cuticle to help lighten and brighten hair naturally.
Brightening Shampoo with Chamomile

Let nature do the lightening with the plant-based Shampoo with Chamomile, a gentle shampoo that gradually brightens highlights and illuminates blonde and lighter shades of hair.

QuickView
Cornflower
Softens and soothes
Centaurea Cyanus L. from France
Grown in the Tarn area of France for its mild temperature and rich soil. A pure and safe floral water is extracted by a special distillation technique that preserves all the precious ingredients and purity of the cornflower.
CUPUAÇU BUTTER
Nourishes and repairs
Theobroma Grandiflorum from the Amazon Rainforest
Sustainably sourced from the Amazon Rainforest and harvested by hand after the fruit has ripened. The seeds are left to dry in the sun and cold-pressed to create the rich, organic Cupuacu butter, proven to be 1.5x more nourishing and 1.4x more repairing than Shea Butter thanks to its unique composition of rich fatty acids.
EDELWEISS
Stimulates and thickens
Leontopodium Alpinum From Europe
Selected from organic crops grown in Switzerland at an altitude of over 1,000 meters. The plant is harvested by hand and dried by small local famers. The supply chain setup is fair trade and certified by Ecocert in accordance with the Fair For Life standard.
Flax
Maximizes volume
Linum Usitatissimum L. from France
The delicate blue flowers of Flax have glossy brown seeds known for their high content in lipids, proteins, and remarkable wealth of soluble fibers that bind to the hair providing unrivaled thickening, strengthening and volumizing properties.
Volumizing Dry Shampoo with Flax

Turn up the volume, naturally with the Volumizing Dry Shampoo with Flax. This style-extender maximizes the texture, fullness and hold of fine hair while lifting hair at the roots for immediate and long-lasting 8H volume*.

QuickView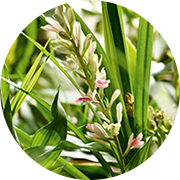 Galangal
Removes flakes
Alpinia Galanga
Klorane selected Galangal as a natural solution to help remove loose dandruff flakes. Galangal is shown to help remove flakes 4x faster than Zinc Pyrithione.*
*Comparative in-vitro study on reference active ingredients at usual concentration doses
Flake-Free Routine

The natural solution for flaky scalps prone to dandruff. This plant-based routine with Galangal helps remove loose dandruff from the first use*, balances the scalp microbiome & reduces itching and redness.

Discount automatically applied at checkout. Kits are not eligible for additional promotional discounts.

QuickView
Mango
Hydrates and nourishes
Mangifera Indica L. from the Caribbean
Cultivated in Costa Rica, Haiti and the Dominican Republic, where the fruit is harvested by hand and the mango kernels are sun-dried and cold-pressed to extract a nourishing butter, scientifically shown to provide nourishment and hydration.
Nettle
Controls oil
Urtica Diocia L. from Eastern Europe
Cultivated using certified organic farming methods, the Nettle is dried naturally in the sun to preserve the plant's purifying, astringent and oil-controlling properties.
Oat Milk
Softens and protects
Avene Sativa L. from France
Organically farmed in the Southwest of France, the grains are harvested when the oat is ripe. Known for it's high content in sugars, lipids and vitamins and clinically shown to soften and protect hair and the natural balance of the scalp.
Peony
Soothes and calms
Paeonia Lactiflora Pall. from China
The Far East has used and cultivated Peonies for over 4000 years. Peony contains a high content of Paeoniflorin, a molecule found in the roots, which creates a soothing sensation with 24-hour comfort.
Quinine
Strengthens and thickens
Cinchona Calisaya Wedd. From South America
Grown in South America, the bark of the red cinchona tree is naturally rich in quinine and had traditionally been used by the Incas as a remedy to stimulate the body. The bark is collected by hand from trees.
dedicated to innovation
research & development
Each year, the Group invests close to 20% of its sales in R & D, focusing on three key research areas: oncology, dermatology and neuropsychiatry. Pierre Fabre employs 1,400 people in R & D, spread across five centers of excellence: Toulouse (cytotoxic molecules and new targeted therapies, skin research, dermo-cosmetics), Saint-Julien-en-Genevois (biotherapies and monoclonal antibodies in oncology) and Castres (treatment of neuropsychiatric pathologies).